Our church emails are listed below. If you have received an email from another email address that you suspect is not from us, especially any requesting immediate financial help or requesting you purchase gift cards, it is likely part of a phishing scam. Please feel free to check with us about any emails that claim to come from any staff or leadership of the church.
Any emails from our staff will have an email address ending in @rochesterunitarian.org!
REV. SHARI HALLIDAY-QUAN
SENIOR MINISTER
Shari was loved into being by a large extended family in Los Angeles made up of white folks, Chinese immigrants who did not come here "the right way," Latinx and multiracial cousins, civil servants, a stunt driver, workers in the gig economy before we called it that, and so many other multitudes. Shari has spent most of the last fifteen years in New York City and during that time received a BA in Economics at Fordham University and a Masters of Divinity at Union Theological Seminary, studying in both places the imperfect science and art of how to do a lot with a little. Prior to beginning as senior minister of First Unitarian Church of Rochester in August of 2019, Shari trained at and served congregations, hospitals, and community settings in San Francisco, Brooklyn, Manhattan, and the Bronx. Shari's wife Elisabeth is an opera singer and founding member of Rhymes With Opera. They share their home in Rochester with a 17-pound cat named Hildegard, visiting family and friends, and never enough houseplants.
REV. AJ VAN TINE
ASSISTANT MINISTER
AJ van Tine is a lifelong UU who grew up at the UU Congregation of Fairfax, Virginia. His call to ministry developed as he participated in and led youth conferences, campus ministry, young adult conferences, and attended the annual General Assemblies of the Unitarian Universalist Association. AJ received a BA in philosophy and religious studies from Christopher Newport University and his Masters of Divinity from Harvard Divinity School, and he completed a ministerial internship at the Boulder Valley UU Fellowship in Lafayette, CO. He then served two years as minister at Sierra Foothills Unitarian Universalists in Auburn, CA, but unfortunately found the already-changed climate detrimental to his and his family's health, which prompted his move back East. AJ lives in Rochester with his wife Ada, who is a writer, and their little black dog, Mina.
SHEILA SCHUH
DIRECTOR OF RELIGIOUS EDUCATION
Sheila Schuh, CREML, is the Director of Religious Education at First Unitarian Church of Rochester, NY, and has served over 15 years. She has recently authored Jubilee Kids, served on the UUA's creation team for the Lifespan Faith Development Accountability Assessment Tool, and develops ongoing offerings on Race, Racism, and Relationships at our congregation.
She was the 2018 Gould Lecturer, "UU Sniffing Salts," and has won awards for intergenerational worship and writing. Sheila has served LREDA in a number of roles, which currently include being a mentor and member of the LREDA Fall Conference Planning Team. Sheila's priorities are inclusion, building restorative systems, non-violence, and supporting parents in their roles as spiritual guides. To relax, she loves to run, play volleyball, dance, climb trees, x-country ski, and spend time with her three children and her partner, Ed!
THOM SNELL
MUSIC DIRECTOR
Hailing from Northeast Ohio, Thom holds a Master of Music in Conducting from the University of Toronto and a Bachelor of Music in Sacred Music from Westminster Choir College. As a baritone soloist, he specializes in baroque oratorio and American art song.
He has performed as a choral singer with the world's leading orchestras, including the New York Philharmonic, Philadelphia Orchestra, San Francisco Symphony, and Staatskapelle Berlin. When he's not making music, Thom enjoys baking, textile arts, and researching prohibition-era mixology.
FLORENCE JESSUP
DIRECTOR OF OPERATIONS
Florence Jessup was first introduced to Unitarian Universalism while in graduate school in Birmingham AL. Since that time, she has worked for multiple UU congregations ranging in size from 125 to over 1,000 across four states.  
She considers herself a UU institutionalist. Her focus is on the administrative and logistical support necessary to accomplish the vision and mission of our congregation and our faith. 
When not at work, Florence maintains a half an acre with a fruit orchard, berries, vegetables and lots of flowers. She also enjoys reading and is a member of several book groups.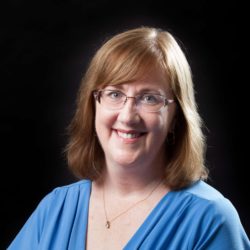 CAROL ANNE CLEARY
COMMUNICATIONS SPECIALIST
Carol Anne is a native of Rochester and a graduate of Nazareth College. She has held previous administration positions at Nazareth College, Hochstein Music School, and the University of Rochester's Eastman School of Music. Carol Anne joined the staff at First Unitarian in 2012 and is an active member of the national Association of Unitarian Universalist Administrators. She volunteers for the Rochester Area Interfaith Hospitality Network (RAIHN), the UU/Schools Partnership Backpack program, and our Religious Education program. Her hobbies include photography, music, reading and hiking. Carol Anne lives in Rochester with her daughter, Sarah, and their ridiculously cute cat, Chloe.
SHANNAN FOOS
MEMBERSHIP COORDINATOR
PASTORAL CARE COORDINATOR
Growing up in Puerto Rico, and raised in a fundamentalist Christian religion, Shannan found Unitarian Universalism to be a sacred community that encouraged and supported her true beliefs and values. Shannan has been a very active member of First Unitarian Church since 2011. In her role as Membership Coordinator, Shannan's ministry extends to all members and newcomers, and the Hospitality Team. She is very passionate about Unitarian Universalism, helping members and newcomers connect deeply with First Unitarian, and making sure members are spiritually fed.  Celebrating membership millstones, getting to know our members, teaching Starting Point, and welcoming newcomers are some of Shannan's favorite things!
Shannan has a Master's Degree in School and Mental Health Counseling and has worked at various organizations and school districts in the Rochester area. She has two daughters with her husband Mark, and a beloved pug named Percy. Shannan loves to swim, visit local museums, play board games, work in the garden, read and give out lots of hugs!
EMMA HALE
DIRECTOR OF JUNIOR YOUTH MINISTRY AND RELIGIOUS EDUCATION ADMINISTRATOR
Emma joined the Religious Education staff of First Unitarian in September of 2010. She grew up in the congregation and became a member as part of the Coming of Age program, and has taken on many roles during her time at First Unitarian. She currently works as the Junior Youth Ministry Coordinator, and brings her passion for the programs that RE offers, such as OWL, and her own experiences from having grown up in the church to her position. Emma has received a BS in Psychology and a BS in Nursing from SUNY Brockport, and is a Registered Nurse on a pediatric unit at Golisano Children's Hospital. In her time away from church, Emma enjoys reading, kayaking, rock climbing, and hiking. She and her husband Alex live in the Swillburg neighborhood with their two cats, Momo and Obi.
CLAUDIA PECK-KIOUSIS
OFFICE ASSISTANT & ADMINISTRATIVE ASSTISTANT TO LEAD MINISTER
MARIA HARTZ
YOUTH MINISTRY COORDINATOR
Maria (she/her) relocated to Rochester in June 2021 to begin Seminary, and is currently pursuing a Master of Divinity with a concentration in Theology and Social Justice. Maria is originally from the Albany, NY area, where she lived until finishing studies in Spanish at The College of Saint Rose. Most recently, she spent time living in southeastern Kentucky – working in the non-profit sector as well as serving as Faith Development Coordinator at Union Church, Berea, where she led the Children's Church program as well as played in the Handbell Ensemble and Orchestra. Maria's ministry passions center around equity, diversity, inclusion, and access within sacred spaces, and hopes to continue developing where she best fits within those passions and sense of call.
Maria has enjoyed being able to call Rochester home and lives in the city with her two cats, Meredith and Olivia.
KELLY LUND
EARLY CHILDHOOD COORDINATOR
Kelly was born and raised in Rochester, New York. She attended Roberts Wesleyan college where she earned a Bachelor's Degree in Disciplinary Studies/Education and Art. Kelly has been working with children between the ages of 2 and 5 for almost twenty years now. She has a wonderful son, Brayden, who is 2 years old and she absolutely loves being a mom and working with children. Kelly looks forward to meeting everyone and helping all of your children grow!
HOPE WORTHINGTON
GROUP LEADER (8TH GRADE)
Connecting to the inclusion, humanist teachings, and respect for others she found in the Unitarian Universalist community, Hope Worthington became a Unitarian Universalist and member of our congregation in 2020. Hoping to give back to the community and strengthen the bonds of her new faith, Hope applied her experience as an ESL teacher (English as a Second Language) in South Korea and Chile and as Professional Development Specialist for the City of Rochester to her position as the 8th Grade Religious Educator. Hope aspires to help foster youth with the same sense of openness, wonder, and belonging that she felt when she became a part of the First Unitarian community.
A native of Texas, René moved to Rochester in 2018 after residing in the Pacific Northwest for twenty seven years, finding the cost of living too good to resist.  His background includes cash management, medical billing, and accounts receivable reconciliation.  In his spare time, he can be found playing with his dachshunds, working around the house, or when mood strikes, breaking out the chalks to draw.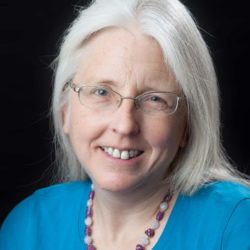 VICTORIA ROBERTSON
UU/SCHOOLS PARTNERSHIP COORDINATOR
Vicki grew up in the Chicago suburbs and Northern Wisconsin, and has a BS in Electrical Engineering and Economics and worked at Kodak Park for 17 years. She and her husband,Ted, live in the Highland Park neighborhood in the city. Her children attend city schools, and that began her journey as an education advocate for city kids. Vicki has served on various boards and committees from nursery school to the district level. Vicki believes that while city schools have many challenges, they have provided an excellent education — both academically and socially for her children – James and Julia.  As UU/Schools Partnership Coordinator she is thrilled to help place volunteers at Schools 22 and 15 to help the students, but also so the volunteers can learn from the students and the schools. Vicki joined First Unitarian in 2010 and is an active member of the choir and social justice work. In her spare time she races sailboats and takes walks in Highland Park.
ERIK WILSON
AV TECHNICIAN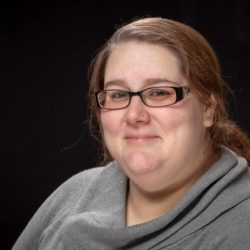 EMILY SANJANWALA
AV TECHNICIAN
Emily grew up in Canandaigua, where she lives with her husband, Andrew. They have a beagle, three cats and an African Sulcata Tortoise. They are expecting their first child in October 2018!
Emily participated in the Technical Theater program available at Canandaigua Academy from 1998-2002, where she was fortunate to work with the Rochester Broadway Theater League, Rochester City Ballet and the International Alliance of Theatrical Stage Employees (IATSE Local 25) in venues such as CMAC, Eastman Theater and the Auditorium Theater.
In her spare time, Emily enjoys reading, crochet and playing video and board games with friends.
REV. LYNN ACQUAFONDATA
AFFILIATED MINISTER
Lynn M. Acquafondata works as a licensed mental health counselor at the Pastoral Counseling and Family Therapy Group and Crossbridge Counseling providing therapy for individuals, couples and families. In addition she created the Congremap model to consult with congregations facing a variety of challenges.
Lynn is an ordained Unitarian Universalist minister who has served congregations in other states and worked as a chaplain in hospital and hospice settings. She hold a Doctor of Ministry and a Master of Counseling degree. Lynn lives with her husband and two dogs. She is the mother of two adult sons.
REV. LIBBY MOORE
AFFILIATED MINISTER
Libby was ordained by One Spirit Interfaith Seminary as an Interfaith Minister in 2011 and was certified by One Spirit as a spiritual counselor two years later. A life-long Unitarian, Libby joined First Unitarian Church in 1984, as soon as she moved to Rochester. Her greatest passion in church is small group spiritual development, especially UU Wellspring. Outside of church, visiting her grandchildren and paddling her kayak or riding her bike keep her happy and content.
REV. TINA SIMSON
MINISTER EMERITA
Rev. Tina faithfully served First Unitarian for eight years as Minister of Spiritual Development and Pastoral Care, before retiring in June 2018. In retirement, she facilitates UU Wellspring, a spiritual deepening program for UU congregations across the US. She has a spiritual counseling practice and advocates for the wellbeing of children through The Children's Agenda/Interfaith Collaborative.
Tina is an Interfaith Minister, ordained through One Spirit Interfaith Seminary and certified in Spiritual Counseling. She is an Associate Member of the UUMA.
She travels this life with her soulmate Joe, her dear children, abundant grandchildren and her delightful dog, Roscoe.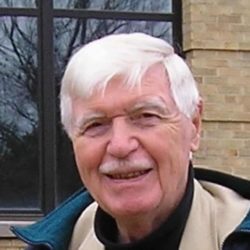 REV. RICHARD S. GILBERT
MINISTER EMERITUS
The Rev. Dr. Richard S. Gilbert retired in 2005 after serving 44 years in the Unitarian Universalist ministry in Cleveland, Ohio, Golden, Colorado, Ithaca, New York, and for 32 years at the First Unitarian Church of Rochester, New York. He received an M.Div. from St. Lawrence University Theological School, a D.Min. from Colgate Rochester Divinity School, and honorary doctorates from St. Lawrence University, Meadville Lombard Theological School, and Starr King School for the Ministry.